Popular Posts
No.of pages : 124(epub version) Print length : 180 pages Publisher : Maysun in C Published on : December 31st, 2014 Genre : Children...

Paperback:  231 pages Publisher:  Grapevine Publishing  Release date: December, 2012 Language:  English Genre: Young-Adult, Tru...

No. of Pages :  194 Publisher :  Srishti Publishers & Distributors Published on : Novemeber 16, 2016 Genre : Young Adult Book Lin...

No.of pages : 462 Publisher: Harmony River Press Publishing date : 10th November 2016 Genre: Romance Book links:   Goodreads   Facebo...

No.of pages : 98 Publisher : Notion Press Published on : October 23, 2016 Genre :  General fiction Book links : Goodreads   Flipkart ...

The book was received as part of Reviewers Programme on The Tales Pensieve . Paperback: 317 pages Publisher: Cactus Publication da...

No. of pages : 243 Publisher : The unnamed press Published on : March 29, 2016 Genre : Young Adult Book Links : Goodreads   Amazon...

  No.of pages : 336   Publisher : Leadstart corp   Published on : January 1 2013  Genre : Fiction   Book links : Goodreads   Amazon...

No.of pages : 200 Publisher : Patridge  India Published on :August 18, 2016 Genre :Self-help , Fiction Book links : Goodreads   Fli...

No.of pages : 316 Published on : August, 2013 First published : 27th July, 2012 Publisher : Niyogi books Genre : Science fiction/politi...

Blog Archive

Friday, July 08, 2016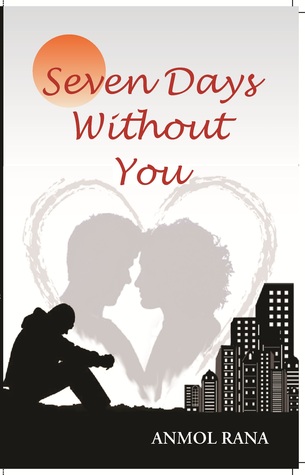 No.of pages : 336
Publisher : Leadstart corp
Published on : January 1 2013
Genre : Fiction
Book links :
Goodreads
Amazon
Flipkart
Author links :
Goodreads
Facebook
This book has been in my shelf for a very long time. Why didn't I read this book then? The book is too predictable for me. It's a cat and mouse story between two childhood friends when I read the first few pages. My conclusion is they are going to end up together at the end of the story. I have to admit, I was in for a pleasant surprise. There are a handful of supporting characters (both good and bad)in the book which makes it complete and engaging. If I have to put it in words, Seven days without you has the potential to become a movie.
Since childhood days, Vishwas hate Shailja. Same school, same college, her only business is to watch Vishwas . Her father and his father are best friends. By nature his mother and her mother also become best friends. In addition to that, they are also neighbors. Shailja's only playtime is watching Vishwas and complain to his mother by exaggerating the story concerning him that makes him embarrassed. She knows all his secrets. He calls her wired teeth witch inside but he can't say to her face because of his mother who treats her like her own daughter. The saddest part is that she would not believe anything he says about her.
Fortunately, Vishwas gets an offer letter to work in Delhi as a software engineer. Thinking he is going to escape from the torture of his mortal enemy Shailja, he goes to Delhi with immense joy. But the reality is far from this. Lot of things happen in the life of Vishwas in seven days which is discussed elaborately in the book .Some are his good experiences,and some are simply bad experiences.
Vishwas encounter with Nishika is very funny. I have thought, they both are going to become lovers even when the book blurb suggests otherwise. My guess is they will eventually breakup because of her carefree nature but have to agree she is the most level headed female. Another hilarious moment is his cousin who bathes only once a week during winter season.. It is a shocking experience when his best friend, Harsha acts like a scum bag. I felt that Vishwas should not have listened to him.There is more to the story.
What are all the things a person faces when he gets a job in a location far away from his family? What are all the troubles he undergoes in an unfamiliar city? Does Vishwas find true love of his life?Read the book, you will know.
This novel is simple, neat, realistic and easy to comprehend with a very well written story plot that will surely attract youngsters who are away from their family owing to their job in different location. I will say Anmol Rana has done a fabulous job even though this is his debut book. The right choice of characters and the cover image makes this book ever interesting enough to capture any reader's mind.
Rating 3.5/5